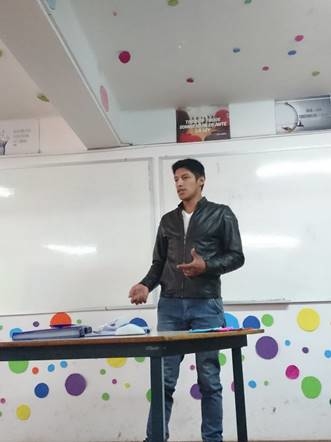 Jóvenes alteños apoyados por el Fondo de Innovación socializan su experiencia emprendedora
by Claudia Aparicio in Entrepreneurship, 13 November 2017, 03:07 PM
Javier Ovando, Hiladiana López, Ximena Rojas, Luz Vargas, Reynaldo Jiménez y José Manuel Condori son jóvenes emprendedores que han recibido apoyo de EQWIP HUBs y el Fondo de Innovación para la iniciación de sus emprendimientos/negocios, siendo los primeros jóvenes alteños apoyados por EQWIP HUBs después de terminar el curso de formación en emprendimiento.

Los emprendedores contaron su experiencia tomando en cuenta las dificultades y aciertos que tuvieron para su elaboración y los tips que les permitieron consolidar su plan de negocio y presentarse al fondo de innovación.

"El segundo paso es apoyar con mentoría a nuestros compañeros que iniciarán a elaborar sus planes de negocio, lo haremos con lo que aprendimos en el Hub y nuestra experiencia" mencionó José Manuel Condori.
About Me
I'm a young professional from Toronto, Canada. I have an academic background in Sociology and Nonprofit Management as well as a postgraduate degree in International Development. I am passionate about gender equality, women's and minority rights, and project management. I'm excited to work in development building sustainable and inclusive communities in Latin America.